At Holy Trinity we take safeguarding of children, young people and vulnerable adults very seriously. Our PCC Safeguarding Policy Statement and Communicating Electronically Policy are below. Please click on the link to take you to the Diocese of London's Safeguarding Policy, which has been fully adopted by Holy Trinity's Parochial Church Council.
Important phone numbers for safeguarding are shown at the bottom of the page.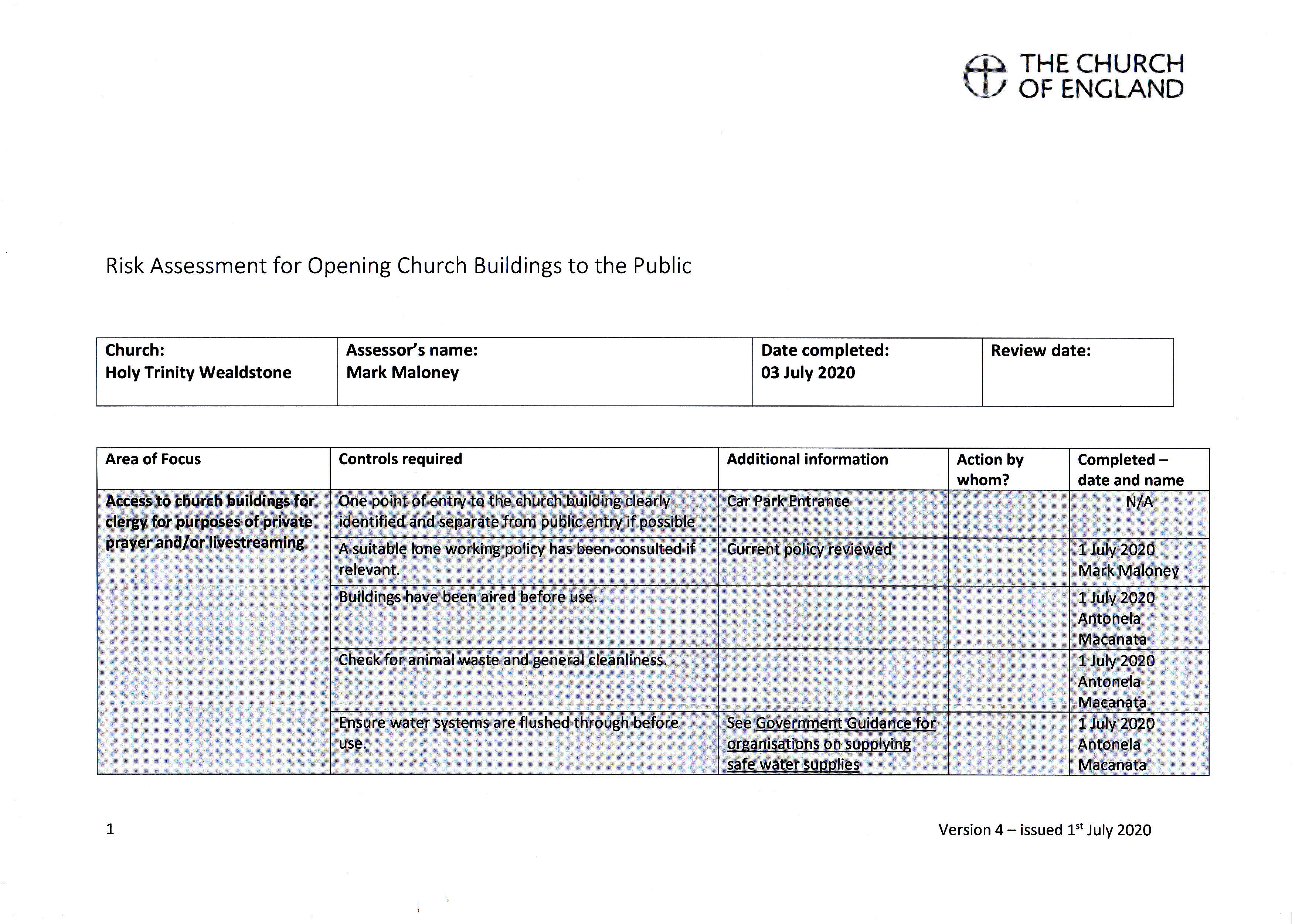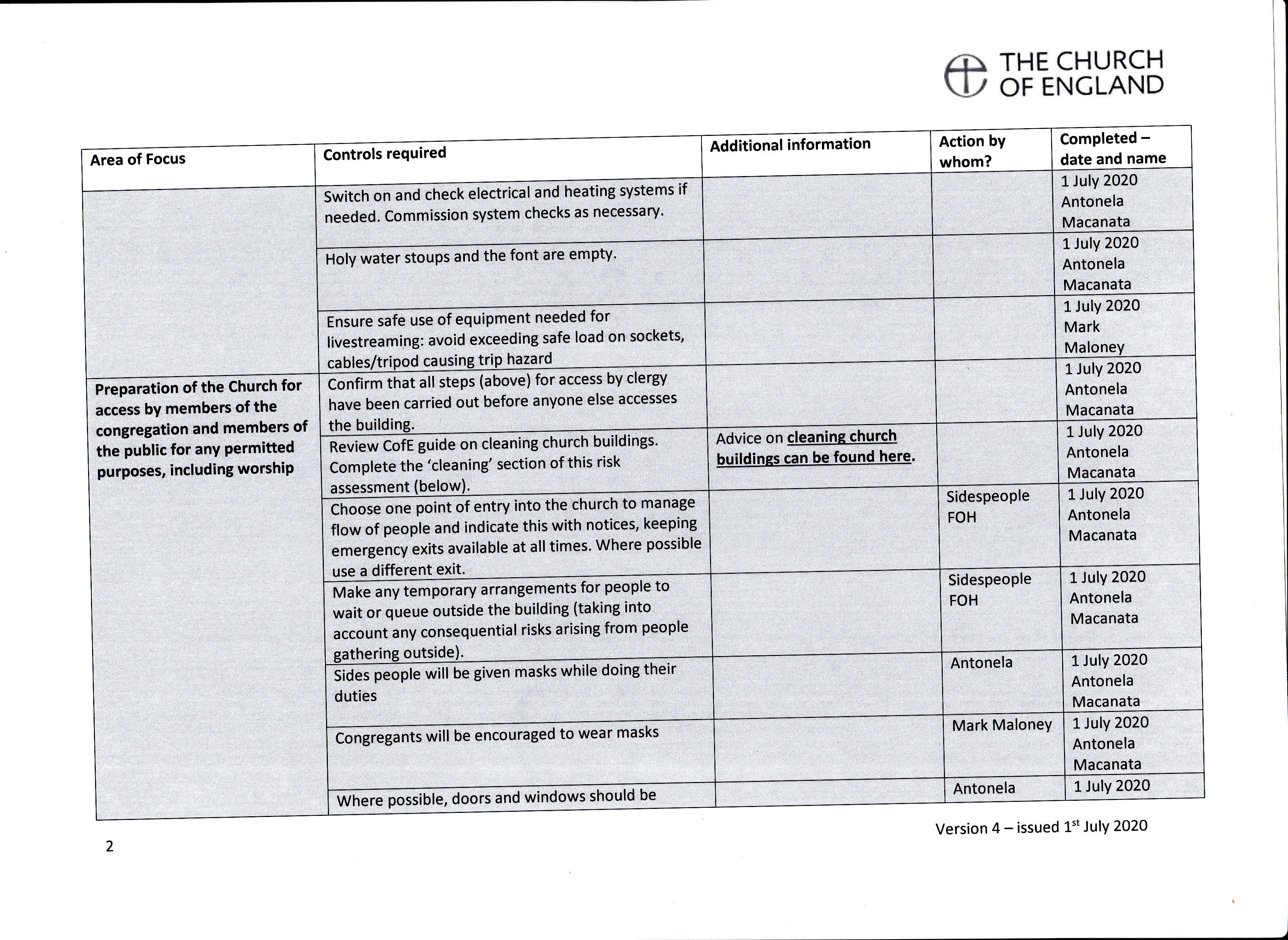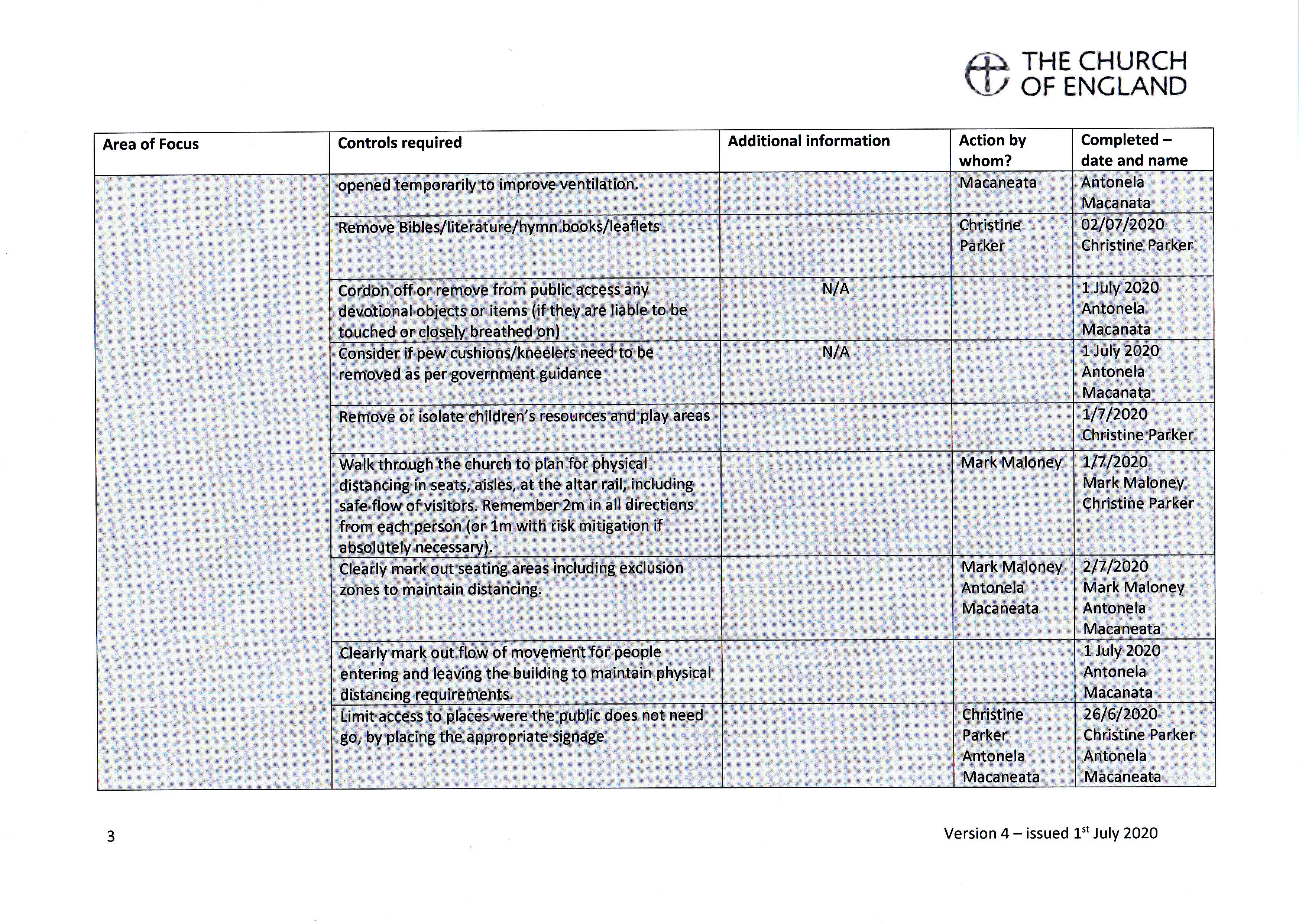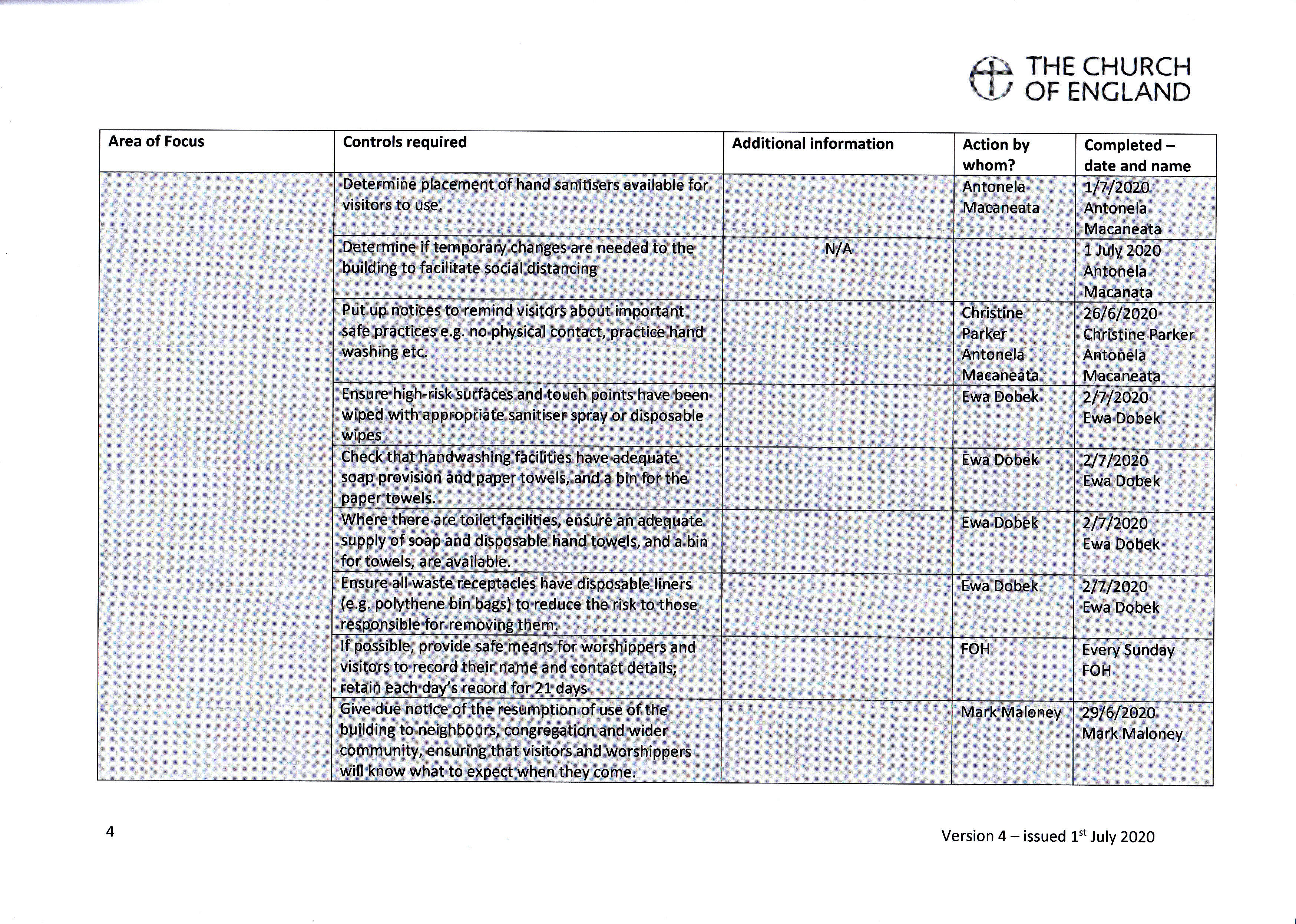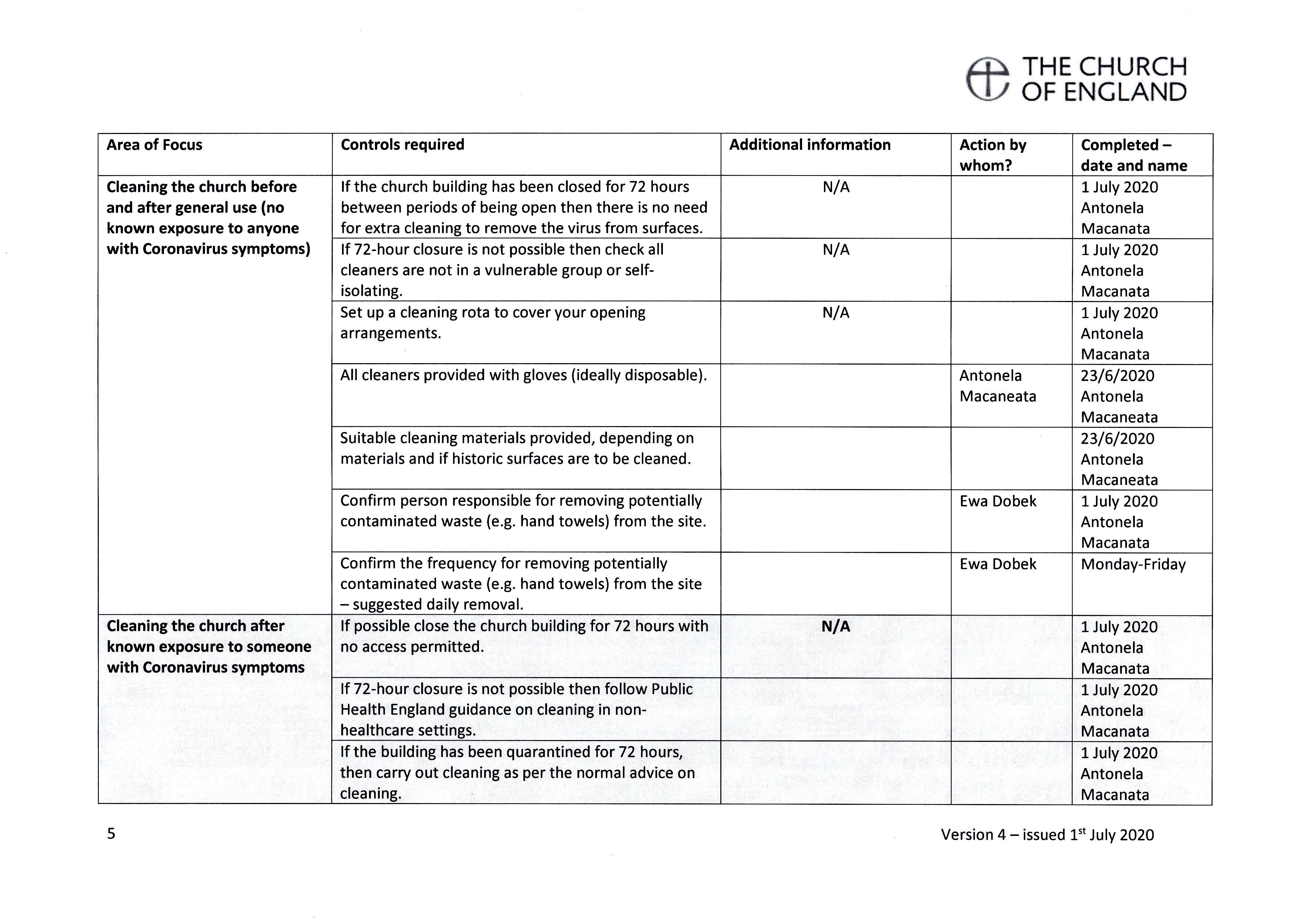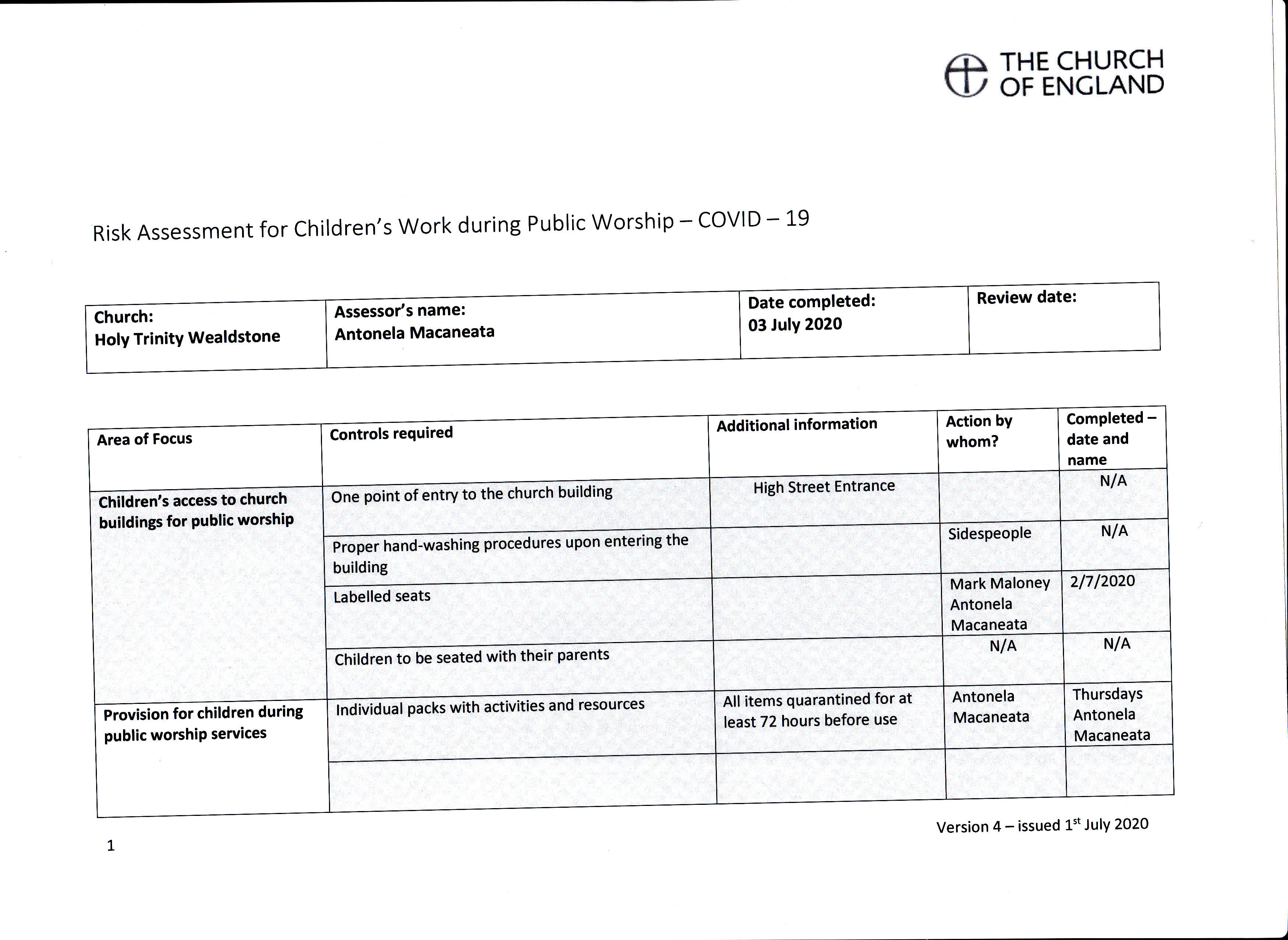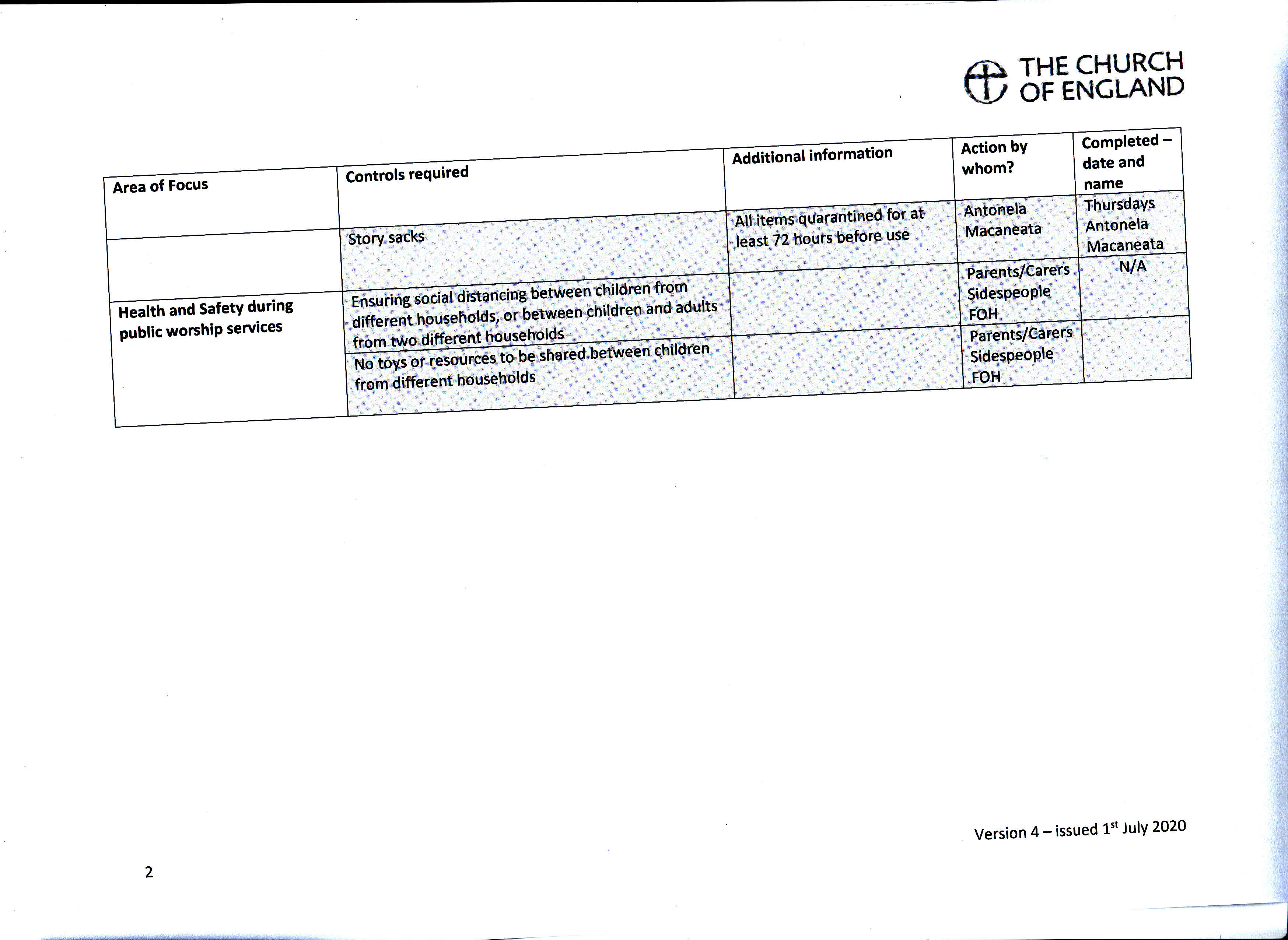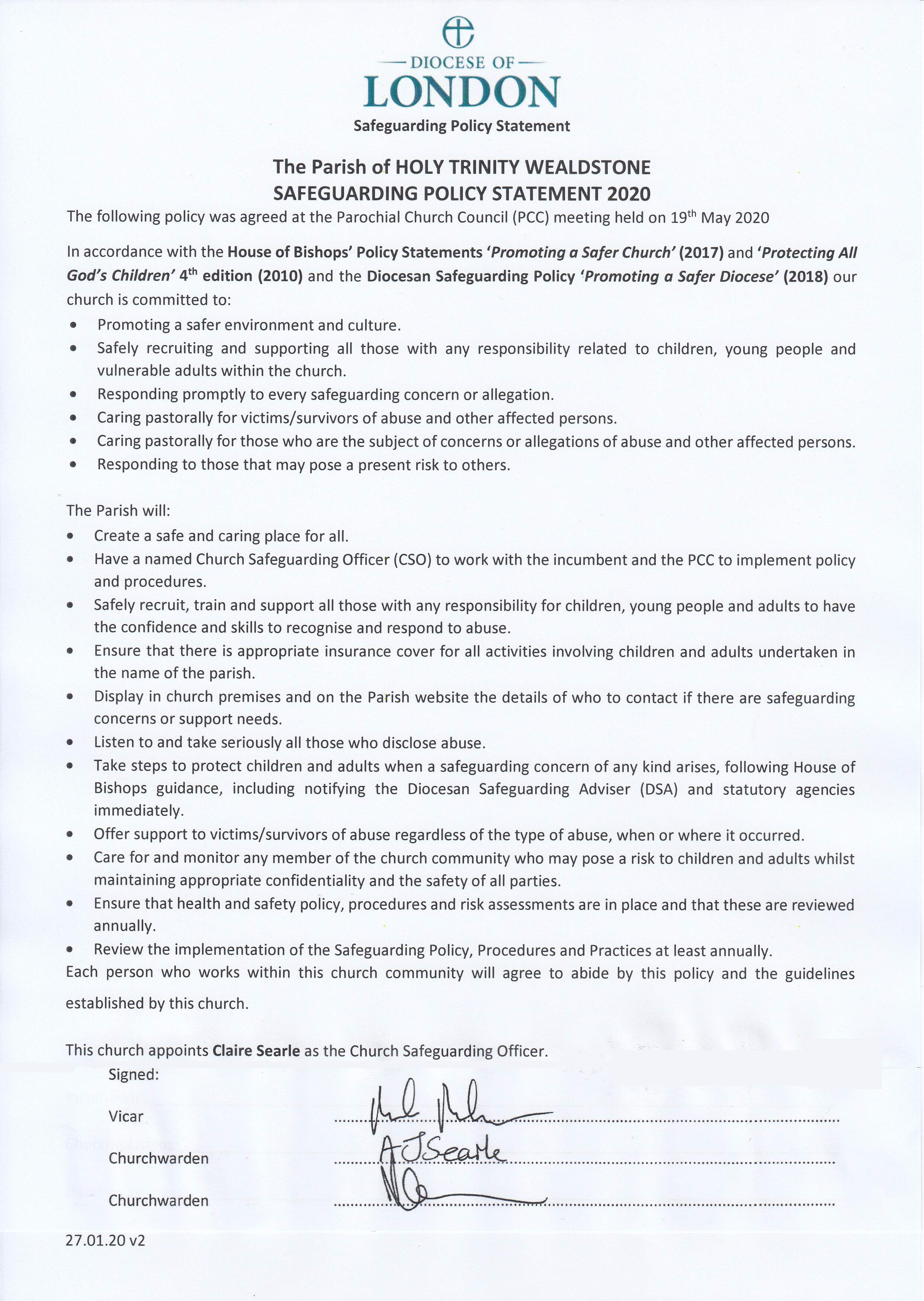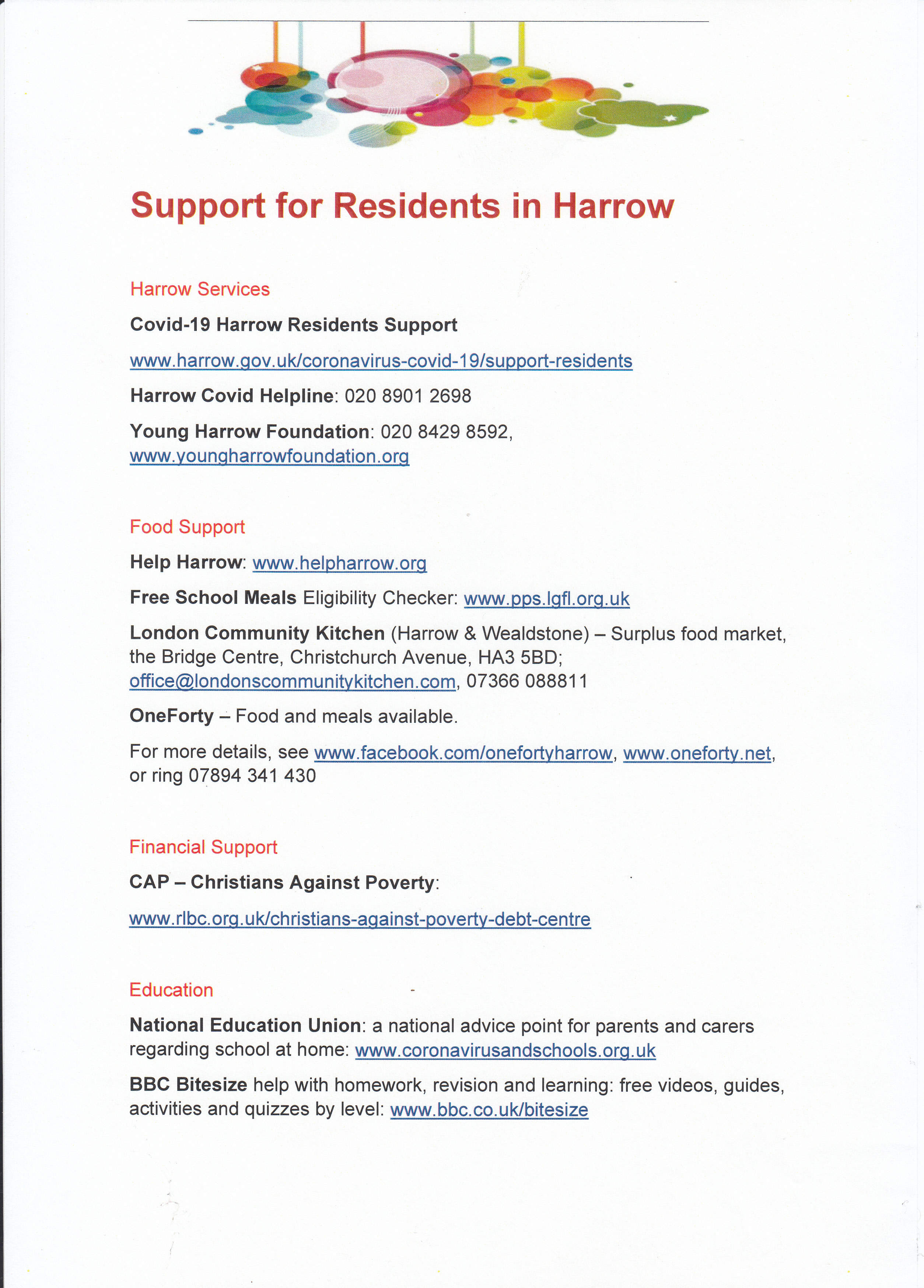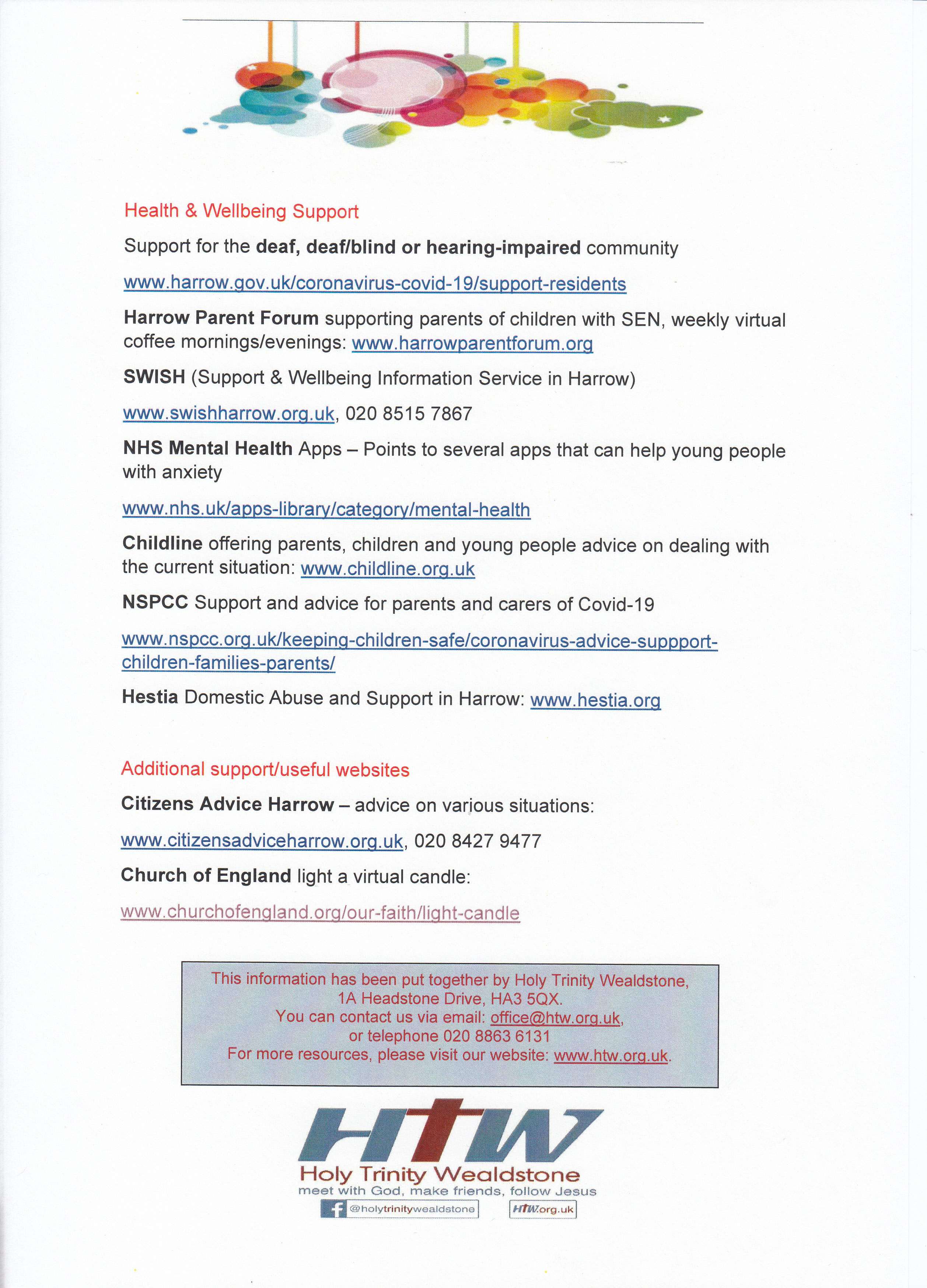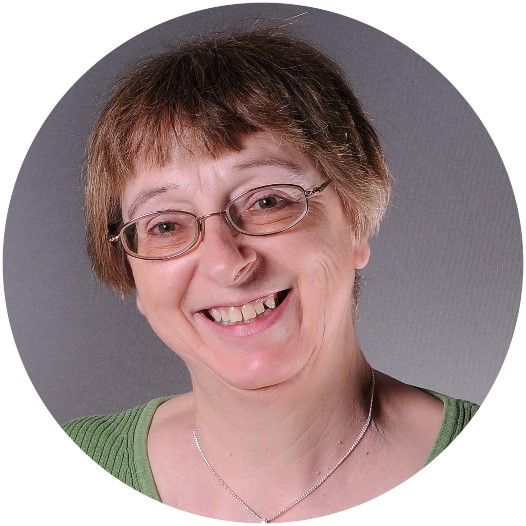 Safeguarding Officer - Claire Searle

Please get in touch via the Parish Office on 020 8863 6131 or speak to me on a Sunday morning if you have any general safeguarding queries regarding children, young people or vulnerable adults in church.
If you have a specific concern regarding a child or adult in church or in our congregation please speak to me as soon as possible.
If your concern for a child is urgent then please ring the police on 999 for immediate danger or Harrow Child Access Team on 020 8901 2690 (Mon - Fri 9am - 5pm) or the duty social worker on 020 8424 0999 (weekends, bank holidays and 5pm - 9am weekdays).
---
Communicating Electronically Policy
Holy Trinity Wealdstone
Safeguarding
Communicating Electronically Policy
This policy is intended for all who work with children and young people within the parish, whether paid or voluntary. It is also for parents to raise their awareness of the issues around electronic communications that could be affecting their children. The whole policy is important, but please note especially the Golden Rules on Page 3.
Rationale
As social media, mobile phones, emails and the internet are all popular with children and young people and are efficient and easily accessed, we believe that it is important that safeguards are put in place by the parish to ensure safety and accountability. Parish communications via electronic means should be professional and separate from private communications.
Vulnerable people often find it easier to communicate electronically rather than face-to face, which could give them a false sense of security and they could overshare more than if talking in person. As abusers know this they often start with electronic communications in order to bully, groom or lure into an unprotected face-to-face meeting.
Holy Trinity Wealdstone, as part of the Diocese of London, is aware of these issues as part of safeguarding and this policy has been adapted from Diocesan guidance to ensure that those who supervise and lead young people know what to do or not do and to hold themselves accountable.
Potential Issues
1)Cyberbullying
Bullying can now happen via text, social media and email. Leaders should be alert to the signs that this could be happening to a child or young person. The child or young person could:
Become withdrawn, anxious, diminishing in confidence
Become aggressive, abusive, disruptive or unreasonable
Begin to stammer
Change their routine
Start to bully others
Be afraid/reluctant to use internet or mobile phone
Be nervous or 'jumpy' when a cyber-message is received
Leaders might see or hear the young person:
Threaten or attempt suicide or self-harm
Threaten or attempt to run away
Ask for or take money
Make improbable excuses for their bad behaviour
Research suggests that at least 33% of 9-19 year olds have received unkind/unpleasant communications but only 7% of parents are aware of this - as with other forms of abuse, children and young people aren't 'telling'.
2)Texting
This is one of the most used methods of communication amongst children and young people, but is difficult to monitor. Workers and volunteers using this method of communication must be accountable for what is said. Ideally, a parish mobile phone should be supplied to a leader who has to communicate often using this method. Itemised bills for texts and phone calls will provide some accountability
Texts should only be sent to young people within the hours of 8am to 9pm.
Parents/carers should be made aware that the worker or volunteer could be communicating with their child in this way.
All texts should be kept – nothing should be deleted - in order to provide clarity.
Workers/volunteers should be aware that they might be asked to allow parish clergy/Church Safeguarding Officer to see their texts to/from a particular child/young person – whether this is on a parish mobile phone or on their own personal phone – this is also to provide accountability.
Where possible, send group texts or emails, rather than to individuals, and copy supervisor or Church Safeguarding Officer into these.
3)Sexting
This has been defined as "the creating, sharing and forwarding of sexually suggestive nude, or nearly nude, images" (Lenhart 2009). So this is taking a sexually explicit image and/or text and sharing it via a mobile phone to others.
Making, possessing or distributing an indecent image of a child (under 18) is a crime.
It is easy to distribute sexually explicit content using smartphones, the internet or social media and a high number of young people (39%-59%) have done this at least once. This means that young people are committing criminal offences: 1) making an indecent image of a child (themselves); 2) possessing an indecent image of a child; 3) distributing an indecent image of a child. They could face charges for doing this, which is something young people rarely realise.
They also need to be aware of other dangers and problems that can follow on:
Once sent, they have no control over further distribution of the images
They can be the target of cyberbullying
They can be the subject of grooming by a sexual predator
This can lead to serious mental health issues caused by fear of what might happen, leading to depression, self-harm and contemplating suicide
It is possible that a young person may confide in a youth leader as someone who can be trusted, so adult leaders need to be vigilant, and if aware this has happened, support the young person in referring the issue to the internet service provider or social media platform.
Support is available from Childline or CEOP – leaders should also involve the Church Safeguarding Officer.
4)Social media
These are online tools used to communicate and engage with other people including:
Writing or commenting on blogs
Micro-blogging (eg Twitter)
Personal profile pages on networking sites (eg LinkedIn, Facebook, Google+)
Using specifically designed Apps (eg Snapchat, WhatsApp, Messenger)
Reviews of products or services on retailer sites/customer review sites
Taking part in online votes, polls or surveys
Taking part in conversations on both public and private web forums (message boards)
If leaders choose to use this method of communication in the parish, great care needs to be taken in order to avoid crossing boundaries into the private lives of group leaders/parish clergy.
1)There should be a separate page for the parish or group where only business relating to the parish or group is discussed.
2)Do not take or post images without express consent (by parent/carer when subject is under 18). Unless explicit permission is given in writing for a particular purpose, (eg to be posted on parish website) do not share these on public forums. The young person also needs to be happy to have the image posted.
3)Ensure that privacy settings allow only approved friends (ie members of the group) to message or add people as a friend – these should also be members of the group.
4)If an app such as WhatsApp is used to communicate with a group of young people, the Church Safeguarding Officer or supervisor should be included as a member of the group to ensure accountability.
Golden Rules for Workers/Volunteers
1)Always obtain parental consent before using any electronic method of communication
2)Use clear unambiguous language that cannot be misinterpreted, eg don't sign off with 'luv', 'xx' 'lol' or similar
3)Use a friendly but not over-familiar or personal tone
4)Content of messages should relate only to the group/club attended
5)To ensure accountability, all communications must be accessible to the person supervising the group leader sending them and this must be made explicit to all involved. (This means copying the Church Safeguarding Officer, a member of the parish clergy or other approved supervisor into the communication, as appropriate)
6)Add a 'rider' regarding confidentiality to the foot of each email
7)Send group texts/emails, not individual ones
8)Any electronic communications which raise concerns must be shared promptly with the leader's supervisor or the Church Safeguarding Officer
9)All electronic communications involving young people should be sent/responded to within set time boundaries (ie not between 9pm and 8am}
10)Not everyone will have access to a mobile phone/computer so ensure other methods of communication too.
11)Images should only be taken/shared with consent (from both subject of image and parent/carer when under 18). These should be stored securely in accordance with Data Protection and not on mobile phones. This includes images on social media sites or on 'YouTube'
12)Photographs taken on behalf of the parish by the parish's official photographer (or anyone else) for posting on the church website or around the church should be taken on a camera fitted with a memory card provided by the parish which should be returned to the parish office directly after use.
Remember that, legally, if a conversation/comment is accessible to even one more person it is deemed to be published information and in the public domain, and therefore subject to libel, defamation, data protection and copyright laws.
Concerns
If a worker or volunteer becomes concerned about the content of a conversation on a social media site, the following action should be taken:
If someone is at risk of immediate harm, dial 999 (eg if you believe that a young person is on their way to meet someone from the internet who is likely not to be genuine)
Don't close down the conversation as this could potentially lose any evidence
Always seek help and advice first – if there is a CEOP button, click on that and follow the instructions. Or get advice from the CEOP website
Preserve any 'paper trails'. If necessary copy and paste any conversations and have these witnessed, sign and dated.
Information and Support
Guidance document from London Diocese https://www.london.anglican.org/kb/communicating- electronically/
Policy written by Claire Searle (Church Safeguarding Officer for Holy Trinity Wealdstone) 13.9.17
Adopted by the PCC at their meeting of 17.10.17
Date of review – October 2018