HOLY TRINITY ENGLISH CLASS (HoTEC)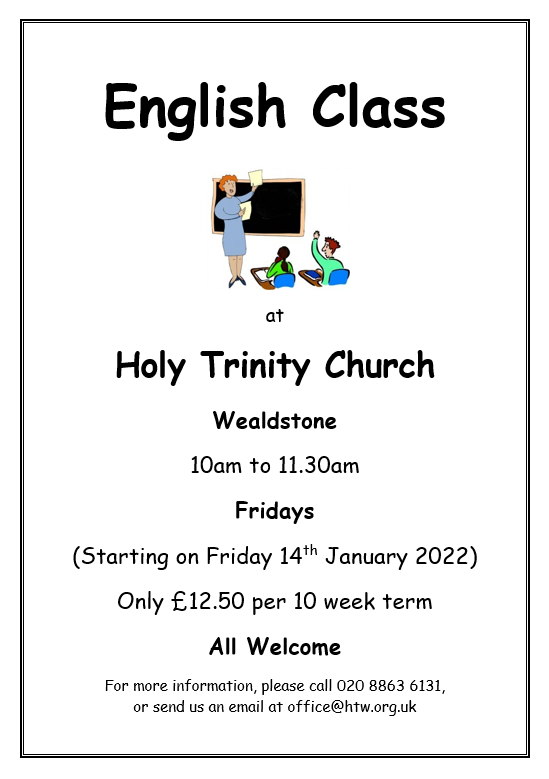 ---
DATES
Fridays
10:00am to 11:30 pm
(Term time only)
LOCATION
Holy Trinity Church, Wealdstone, HA3 5QX
TELEPHONE
020 8863 6131
EMAIL
office@htw.org.uk
What we do?
We run one English class for speakers of other languages . It is for beginners and slightly more advanced. The class covers speaking and listening, reading and writing, often focused round everyday subjects like going to the doctor or filling in forms. Miming and drawing, to explain meanings, and competitions, to help check whether the lessons have been absorbed, both bring in a lot of laughter.
The class takes place on Fridays during school terms from 10.00 to 11.30 am in the church buildings.
Who is it for?
New arrivals in the UK and others who have found it difficult to attend classes in colleges. Students come from a wide variety of language backgrounds. Their ages range from 20 to 70 plus.
Anyone who needs beginner's level teaching is welcome to apply. There is sometimes a waiting list.
Who runs it?
Holy Trinity Church Council (PCC) set it up, provides the accommodation and encourages volunteers who help run the classes. Some teachers are paid. The students are charged a modest fee, which does not cover all the costs. Any donations are welcome.
HoTEC is supported by the City of London Corporation's charitable funder, City Bridge Trust.

Why do we do it?
As an act of Christian service, providing something our neighbours in Wealdstone and Harrow Weald need – and because it is fun for students and helpers.
Want to know more?
To apply for a place or to learn about volunteering:
Turn up at class times and meet us. Use the entrance of the church on the corner diagonally opposite the library.
Alternatively use the contact details opposite.
The class organisers will reply to messages left.
---